Scene States Menu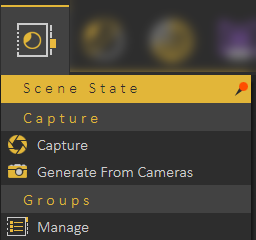 Capture
Enables the user to capture different configurations for the selected 3D model(s) (Selection option), or for the whole scene (Scene option). The user can check the properties to include in a scene state.
Scene State may include a combination of: 
After selecting what to include in the Scene State, the user needs to click Scene or Selection to capture scene state of either one. Captured scene states are added to the Scene States Library.
Scene states can be applied as Object Actions in the Properties dialog. Apply Scene State can also be used as a response in Training Builder 
Generate From Cameras
Captures scene states from the created cameras in the scene, as shown in the image below.
Manage
Opens Manage Scene States Groups dialog box, where the user can add a new group, remove, rename, or reorder groups.
When creating a new Scene state it will be automatically added to the active group tab in the Scene State Library.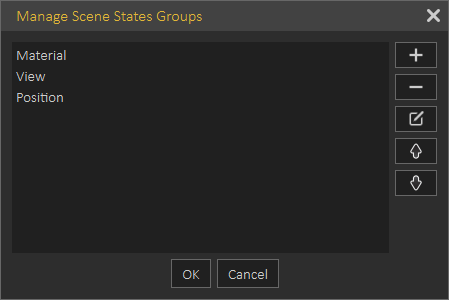 The following tutorial shows how to use Scene States