Starting a VR Collaboration Session (Host)
Tutorial Video of Starting a VR Collaboration Session
Adding the VR Experience to SimLab VR Viewer
Before starting a VR Collaboration session, you need to first add the VR Experience to SimLab VR Viewer while logged in to your SimLab account.
To create a VR Experience from SimLab VR Studio, go to the VR Viewer Menu and select "Export VR Package".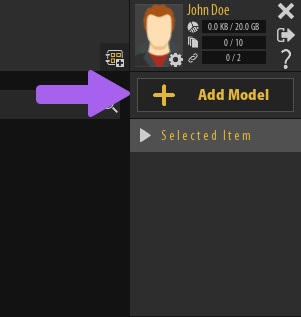 To Add the Exported VR Package to SimLab VR Viewer, click on "Add Model" in SimLab VR Viewer and select the VR package you just exported.
If you want to learn more about adding VR packages to SimLab VR Viewer, click here.
---
Starting a Collaboration Session
Specifying the VR Experience
To Start a Collaboration Session in SimLab VR Viewer, select the VR Experience you want to use for the collaboration session then from the Selected Item panel to the right, click on the Collaboration Icon.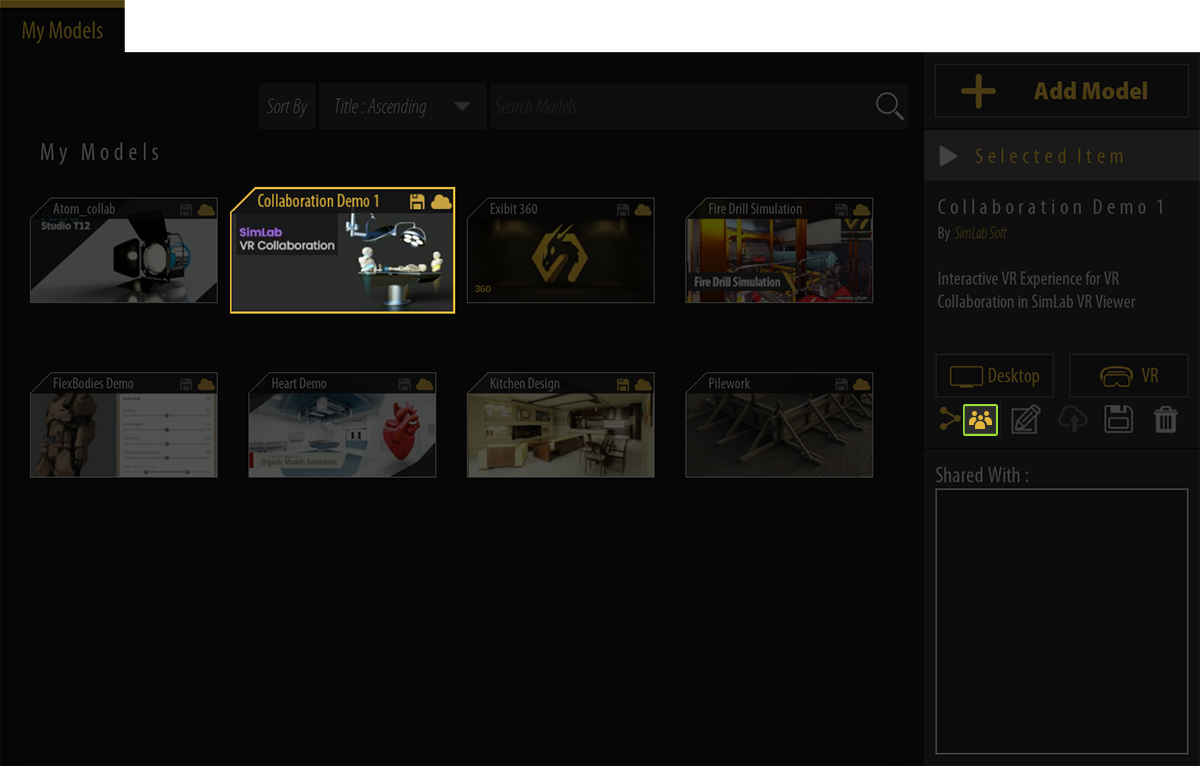 ---
Selecting Participants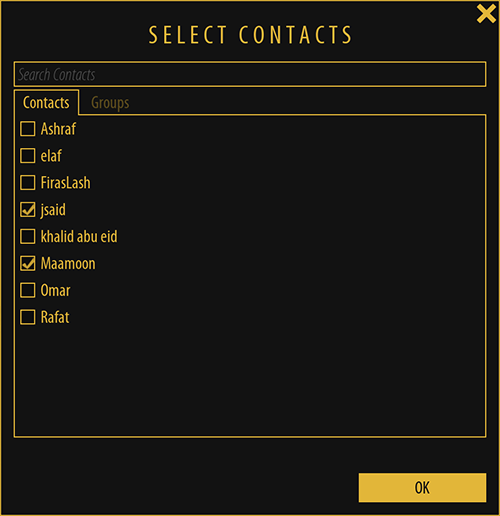 Once you have clicked the Collaboration Icon, the contacts selection list will appear where you can select the contacts or groups of contacts that you want to be part of the collaboration session, select the contacts and click "OK" to go to the collaboration Lobby.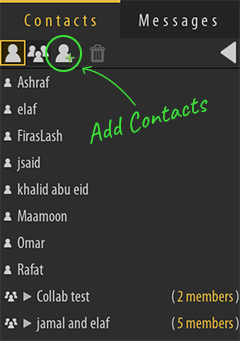 To add Contacts click on the add contacts Icon in the contacts panel to the left, then enter the contact's email and click Add.
If you want to learn more about Adding contacts and creating groups, click here.
---
Collaboration Lobby
After specifying the contacts who are going to participate in the VR Collaboration session, the Collaboration Lobby Interface will appear at the bottom half of the SimLab VR Viewer, and a Collaboration invitation will be sent to all the specified contacts, once the contacts accepts the invitation in SimLab VR Viewer the indicator next to their names will turn green.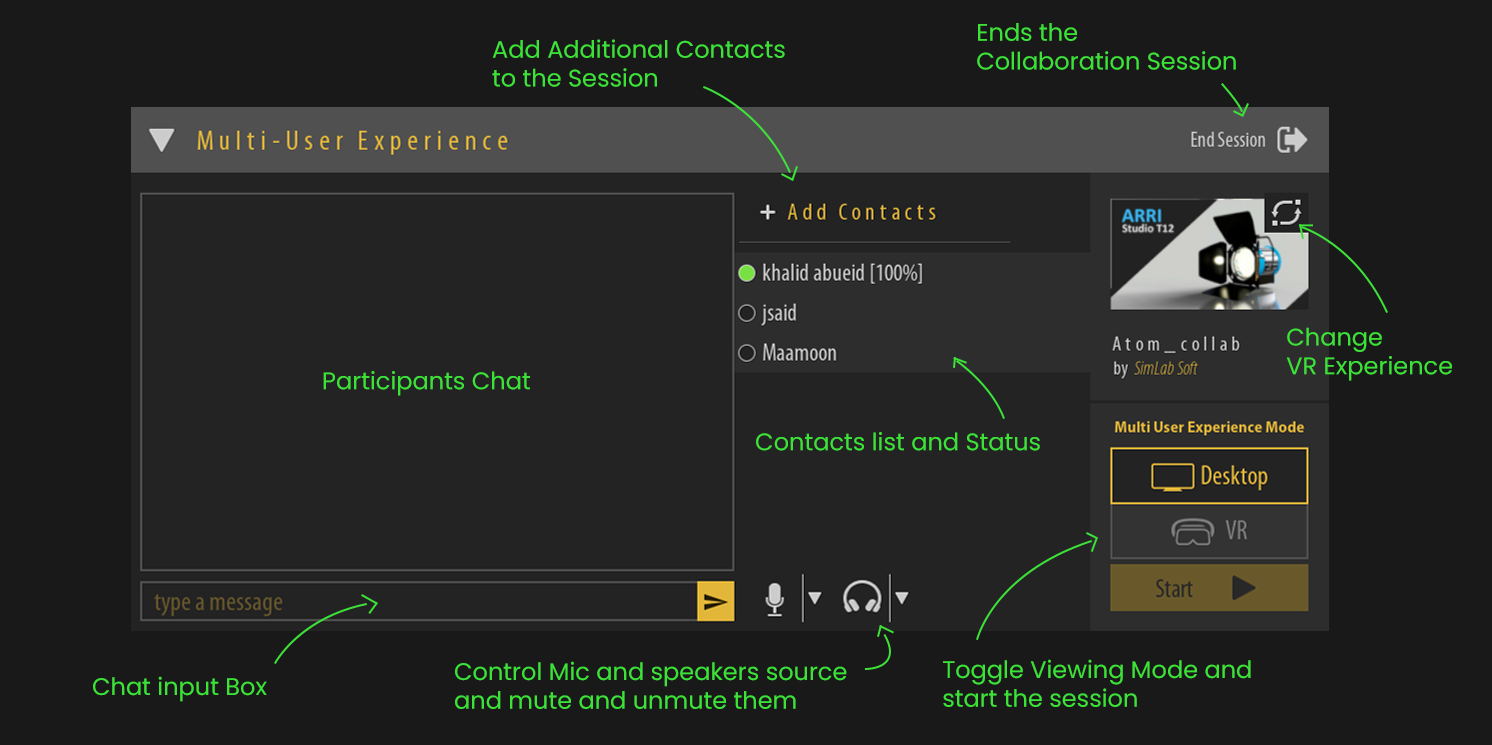 Starting the VR Collaboration session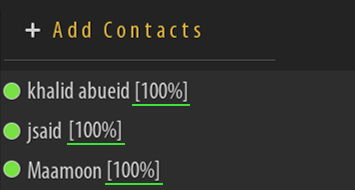 All the participants who have accepted the invitation will have a percentage meter next to their name, which measures their VR Experience download progress, so make sure that all the participants are at 100% before starting the VR Collaboration session.
To Start The VR Collaboration Session make sure that the desired viewing Mode (Desktop or VR) is selected and then click on the "Start" Button.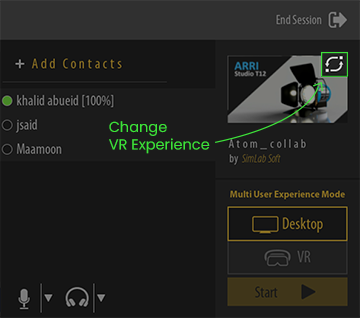 Note : If you wish to change the VR experience while in the lobby, you can select a new VR experience under My Models or Shared Models then click on the Change VR Experience icon at the top right corner of the collaboration VR Experience Thumbnail.
---
VR Collaboration Session Controls
When accessing the VR menu as a Host during a VR Collaboration Session, you will find multiple options that can be helpful at the bottom right corner of the screen in Desktop Mode, or near the VR Menu in VR mode.

Participants Interactions : Enables the participants interactions through triggering and grabbing or disabling them.

Mute Participants : Mutes all Participants and deny them the ability to use voice chat.

Mute Microphone : Mutes your own Microphone but other participants can still use voice chat.

Mute Speaker : Mutes your own speaker but other participants can still use voice chat.