Introduction

In this article we are going to talk about SimLab VR Warehouse. We will talk about Its uses, how it can help VR creators, and how designers can use it to make money as well.
What is SimLab VR Warehouse?
Its a market of VR experiences, Designers can publish and sell their VR experiences to SimLab users. SimLab users can find great VR experiences ready to be used or edited. the main difference between the VR warehouse and other 3D libraries or stores, In the VR warehouse you will find full experiences not just 3D models, Experiences ready to be consumed on VR, interactive stories, training sessions, and more.
You can find both PAID and FREE experiences in high quality since all uploaded VR experiences are being processed and tested before publishing.
Where to find it?
SimLab VR Warehouse is available inside SimLab VR Studio and SimLab Composer. You can find it under the Libraries tab.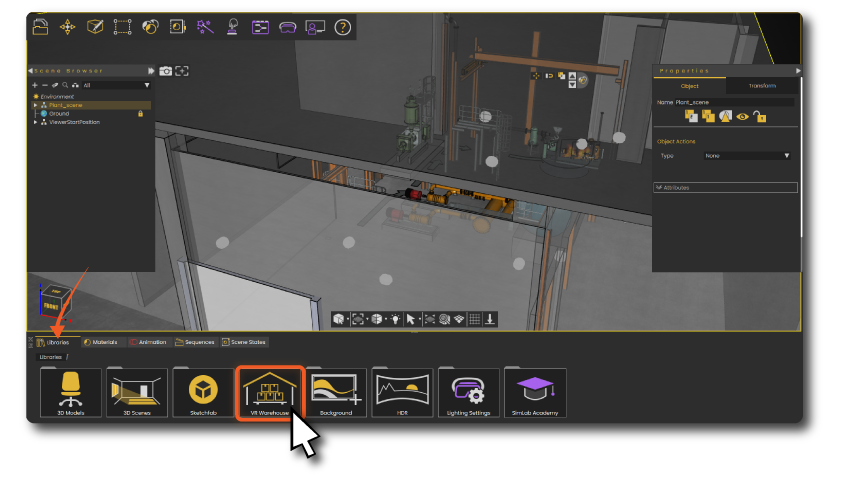 How to use it?
We can divide the use of SimLab VR Warehouse into two main categories as follows:
---
Buying and downloading VR experiences
SimLab VR Studio and Composer users can download and purchase VR experiences through SimLab VR Warehouse.
---
Selling and publishing VR experiences
Designers and creators will be able to upload VR designs and experiences into SimLab VR Warehouse and sell them through SimLab VR Studio.
---
Licensing
3D Models, and Scenes included in SimLab Composer, SimLab VR Studio, or downloaded from SimLab Cloud including the ones appearing in VR warehouse are protected by copyright. These models and scenes may be utilized solely for educational purposes or to be used as a base to generate new VR experiences to be viewed using the original SimLab VR Viewer, either free of charge or commercially. However, if one wishes to distribute such Experiences to run on any other viewer, including a white-labeled version of SimLab VR Viewer, they must obtain a written permission from SimLab Soft.